About Us
Spice House is a Indian takeaway in Newport. Why don't you try our Coca-Cola or Saag Balti?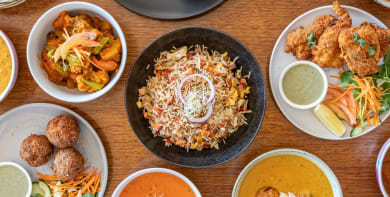 Reviews
144 reviews
Megan
"This is my favourite Indian in Newport. It's fab and well worth the price. Have always delivered atleast 5 minutes early but today was outstanding"
06/07/2020
Mr
"Simply the best"
03/07/2020
Ian
"First time I've used this restaurant, top marks all round will definitely use again."
29/06/2020
Christopher
"Great food & service"
27/06/2020
Menu
Mix Kebab Starter
Seekh kebab, chicken tikka & lamb tikka
£4.60
Tandoori Mixed Grill
Tandoori chicken, chicken tikka, lamb tikka & seekh kebab served with plain naan
£9.95
Tandoori Shashlik Chicken
Grilled in tandoor oven with onions, capsicums & tomatoes. Served with a plain naan
£9.95
Tandoori Shashlik Lamb
Grilled in tandoor oven with onions, capsicums & tomatoes. Served with a plain naan
£10.95
Seekh Kebab (Main)
5 Pieces
£6.95
Set Meal For 2 Meat
3 Poppadoms
Salad & mint sauce
Chicken tikka
Onion bhaji (starters)
Chicken tikka masala
Chicken balti
Mushroom bhaji
Pilau rice
Keema naan (any naan filling add £1 extra)
Onion salad & mango chutney
£30.95
Set Meal For 1 Chicken
2 Poppadoms
Salad & mint sauce
Mix kebab starter
Any traditional curry
1 Pilau rice
Plain naan (any naan filling add £1 extra)
£14.50
Set Meal For 1 Chicken Tikka
2 Poppadoms
Salad & mint sauce
Mix kebab starter
Any traditional curry
1 Pilau rice
Plain naan (any naan filling add £1 extra)
£16.50
Set Meal For 1 King Prawn
2 Poppadoms
Salad & mint sauce
Mix kebab starter
Any traditional curry
1 Pilau rice
Plain naan (any naan filling add £1 extra)
£18.50
Set Meal For 1 Lamb Tikka
2 Poppadoms
Salad & mint sauce
Mix kebab starter
Any traditional curry
1 Pilau rice
Plain naan (any naan filling add £1 extra)
£18.50
Set Meal For 1 Meat
2 Poppadoms
Salad & mint sauce
Mix kebab starter
Any traditional curry
1 Pilau rice
Plain naan (any naan filling add £1 extra)
£16.50
Set Meal For 2 Chicken
3 Poppadoms
Salad & mint sauce
Chicken tikka
Onion bhaji (starters)
Chicken tikka masala
Chicken balti
Mushroom bhaji
Pilau rice
Keema naan (any naan filling add £1 extra)
Onion salad & mango chutney
£28.95
Set Meal For 2 Chicken Tikka
3 Poppadoms
Salad & mint sauce
Chicken tikka
Onion bhaji (starters)
Chicken tikka masala
Chicken balti
Mushroom bhaji
Pilau rice
Keema naan (any naan filling add £1 extra)
Onion salad & mango chutney
£30.95
Set Meal For 2 King Prawn
3 Poppadoms
Salad & mint sauce
Chicken tikka
Onion bhaji (starters)
Chicken tikka masala
Chicken balti
Mushroom bhaji
Pilau rice
Keema naan (any naan filling add £1 extra)
Onion salad & mango chutney
£32.95
Set Meal For 2 Lamb Tikka
3 Poppadoms
Salad & mint sauce
Chicken tikka
Onion bhaji (starters)
Chicken tikka masala
Chicken balti
Mushroom bhaji
Pilau rice
Keema naan (any naan filling add £1 extra)
Onion salad & mango chutney
£32.95
Set Meal For 4
4 Poppadoms
Salad & mint sauce
Meat samosa
Seekh kebab
Onion bhaji
Chicken chaat (starters)
Chicken korai
Meat dupiaza
Prawn pathia
Chicken tikka masala
Bhindi bhaji
Bombay aloo
2 Pilau rice
2 Pain naan
Onion salad
Mango chutney
£45.00
Weekday Special Chicken Tikka
2 Poppadoms
Salad & mint sauce
Meat samosa or onion bhaji (starters)
Any 2 traditional chicken curries
Bombay aloo
Boiled rice
Naan bread (any naan filling add £1 extra)
Onion salad
Mango chutney
£21.95
Weekday Special Lamb Tikka
2 Poppadoms
Salad & mint sauce
Meat samosa or onion bhaji (starters)
Any 2 traditional chicken curries
Bombay aloo
Boiled rice
Naan bread (any naan filling add £1 extra)
Onion salad
Mango chutney
£23.95
Weekday Special Meat
2 Poppadoms
Salad & mint sauce
Meat samosa or onion bhaji (starters)
Any 2 traditional chicken curries
Bombay aloo
Boiled rice
Naan bread (any naan filling add £1 extra)
Onion salad
Mango chutney
£21.95
Weekday Special Chicken
2 Poppadoms
Salad & mint sauce
Meat samosa or onion bhaji (starters)
Any 2 traditional chicken curries
Bombay aloo
Boiled rice
Naan bread (any naan filling add £1 extra)
Onion salad
Mango chutney
£19.95
Spice House Special Biryani
Prepared with chicken, meat, mushrooms & fruit. Served with an omelette on top
£7.95
Shahi Biryani
Chicken, prawn, mushroom & fruit with an omelette on top
£7.95
Mughlai Biryani
Chicken, meat & pineapple with an omelette on top
£7.95
Maharajah Biryani No Chilli
Apna style with extra garlic, keema, chicken tikka with an omelette on top. Chillies optional
£7.95
Maharajah Biryani With Chilli
Apna style with extra garlic, keema, chicken tikka with an omelette on top. Chillies optional
£7.95
Aloo Balti Chicken Tikka
Spicy potatoes
£6.95
Aloo Balti King Prawn
Spicy potatoes
£10.95
Aloo Balti Lamb Tikka
Spicy potatoes
£8.95
Aloo Balti Prawns
Spicy potatoes
£6.95
Aloo Balti Vegetables
Spicy potatoes
£6.95
Mushroom Balti Chicken Tikka
£6.95
Mushroom Balti King Prawn
£10.95
Mushroom Balti Lamb Tikka
£8.95
Mushroom Balti Vegetables
£6.95
Garlic Balti Chicken Tikka
£6.95
Saag Balti Chicken Tikka
Spinach infused with garlic
£6.95
Saag Balti King Prawns
Spinach infused with garlic
£10.95
Saag Balti Lamb Tikka
Spinach infused with garlic
£8.95
Saag Balti Prawns
Spinach infused with garlic
£6.95
Saag Balti Vegetables
Spinach infused with garlic
£6.95
Spice House Special Balti
Cooked with chicken, meat & mince meat
£6.95
Original Balti Chicken Tikka
£6.95
Original Balti King Prawns
£10.95
Original Balti Lamb Tikka
£8.95
Original Balti Vegetables
£6.95
Vegetable Balti Chicken Tikka
£6.95
Vegetable Balti King Prawn
£10.95
Vegetable Balti Lamb Tikka
£8.95
Vegetable Balti Vegetables
£6.95
Pasanda
Cooked in a mild sauce with cashew nuts, sultanas & cream
Mild
£6.95
Jalfrezi
Slices of tender chicken breast cooked in a rich spicy sauce with fresh green chillies
£6.95
Jeera
Cooked in a dry spicy sauce with chunks of capsicums & onions, enriched with jeera
£6.95
Garlic Chilli Masala
Cooked in a spicy pickle made from Bengali naga chillies with extra garlic, ginger & fresh green chillies
£6.95
Korai
A wholesome dish well cooked with various herbs & spices in a thick mint gravy
£6.95
Murgh Masala
Spring chicken barbecued in the clay tandoor then infused with spices & minced meat
£6.95
Chicken Mushroom Baghar
Slices of barbecued chicken tikka cooked in a rich spicy sauce made with extra garlic & ginger. Garnished with spiced mushrooms, cumin, green peppers & onions
£6.95
Chicken Rezela
Barbecued chicken tikka Cooked with sliced green chillies & tomatoes with coriander
£6.95
Chicken Sagwalla
Tender spring chicken cooked with spinach, spices, mushrooms & fresh cream
£6.95
Butter Chicken
Mild chicken tikka dish cooked in a rich butter sauce, garnished with fresh coriander
Mild
£6.95
Achari Chicken
Sliced of barbecued chicken tikka mixed with pineapple & cooked in a sweet & sour sauce made with tamarind
£6.95
Anarkali Bahar
Cooked with onions, tomatoes, capsicums in a rich creamy sauce
£6.95
Uri Chicken
Medium with green beans
Medium
£5.25
Uri Chicken Tikka
Medium with green beans
Medium
£6.25
Uri King Prawns
Medium with green beans
Medium
£9.25
Uri Lamb Tikka
Medium with green beans
Medium
£7.25
Uri Meat
Medium with green beans
Medium
£6.25
Uri Prawn
Medium with green beans
Medium
£6.25
Uri Vegetables
Medium with green beans
Medium
£5.25
Vindaloo Chicken
Cooked in a very hot sauce
Hot
£5.25
Vindaloo Chicken Tikka
Cooked in a very hot sauce
Hot
£6.25
Vindaloo King Prawns
Cooked in a very hot sauce
Hot
£9.25
Vindaloo Lamb Tikka
Cooked in a very hot sauce
Hot
£7.25
Vindaloo Meat
Cooked in a very hot sauce
Hot
£6.25
Vindaloo Prawn
Cooked in a very hot sauce
Hot
£6.25
Vindaloo Vegetables
Cooked in a very hot sauce
Hot
£5.25
Rogan Josh Chicken
Medium with tomatoes
Medium
£5.25
Rogan Josh Chicken Tikka
Medium with tomatoes
Medium
£6.25
Rogan Josh King Prawns
Medium with tomatoes
Medium
£9.25
Rogan Josh Lamb Tikka
Medium with tomatoes
Medium
£7.25
Rogan Josh Meat
Medium with tomatoes
Medium
£6.25
Rogan Josh Prawn
Medium with tomatoes
Medium
£6.25
Rogan Josh Vegetables
Medium with tomatoes
Medium
£5.25
Saag Chicken
Medium with spinach
Medium
£5.25
Saag Chicken Tikka
Medium with spinach
Medium
£6.25
Saag King Prawns
Medium with spinach
Medium
£9.25
Saag Lamb Tikka
Medium with spinach
Medium
£7.25
Saag Meat
Medium with spinach
Medium
£6.25
Saag Prawn
Medium with spinach
Medium
£6.25
Saag Vegetables
Medium with spinach
Medium
£5.25
Pathia Meat
Hot, sweet & sour
Hot
£6.25
Pathia Prawn
Hot, sweet & sour
Hot
£6.25
Pathia Chicken
Hot, sweet & sour
Hot
£5.25
Pathia Chicken Tikka
Hot, sweet & sour
Hot
£6.25
Pathia King Prawns
Hot, sweet & sour
Hot
£9.25
Pathia Lamb Tikka
Hot, sweet & sour
Hot
£7.25
Pathia Vegetables
Hot, sweet & sour
Hot
£5.25
Korma Meat
Mild & sweet with cream & coconut
Mild
£6.95
Korma Prawn
Mild & sweet with cream & coconut
Mild
£6.95
Korma Chicken
Mild & sweet with cream & coconut
Mild
£5.95
Korma Chicken Tikka
Mild & sweet with cream & coconut
Mild
£6.95
Korma King Prawns
Mild & sweet with cream & coconut
Mild
£9.95
Korma Lamb Tikka
Mild & sweet with cream & coconut
Mild
£7.95
Korma Vegetables
Mild & sweet with cream & coconut
Mild
£5.95
Malaya Chicken
Slightly mild with pineapple
Mild
£5.25
Malaya Chicken Tikka
Slightly mild with pineapple
Mild
£6.25
Malaya King Prawns
Slightly mild with pineapple
Mild
£9.25
Malaya Lamb Tikka
Slightly mild with pineapple
Mild
£7.25
Malaya Meat
Slightly mild with pineapple
Mild
£6.25
Malaya Prawn
Slightly mild with pineapple
Mild
£6.25
Malaya Vegetables
Slightly mild with pineapple
Mild
£5.25
Madras Chicken
Fairly hot
£5.25
Madras Chicken Tikka
Fairly hot
£6.25
Madras King Prawns
Fairly hot
£9.25
Madras Lamb Tikka
Fairly hot
£7.25
Madras Vegetables
Fairly hot
£5.25
Curry Chicken Tikka
Medium
£6.25
Dhansak Meat
Hot, sweet & sour with lentils
Hot
£6.25
Dhansak Prawn
Hot, sweet & sour with lentils
Hot
£6.25
Dhansak Vegetables
Hot, sweet & sour with lentils
Hot
£5.25
Dhansak Chicken
Hot, sweet & sour with lentils
Hot
£5.25
Dhansak Chicken Tikka
Hot, sweet & sour with lentils
Hot
£6.25
Dhansak King Prawns
Hot, sweet & sour with lentils
Hot
£9.25
Dhansak Lamb Tikka
Hot, sweet & sour with lentils
Hot
£7.25
Dupiaza Meat
Medium with onions & capsicums
Medium
£6.25
Dupiaza Prawn
Medium with onions & capsicums
Medium
£6.25
Dupiaza Chicken
Medium with onions & capsicums
Medium
£5.25
Dupiaza Chicken Tikka
Medium with onions & capsicums
Medium
£6.25
Dupiaza King Prawns
Medium with onions & capsicums
Medium
£9.25
Dupiaza Lamb Tikka
Medium with onions & capsicums
Medium
£7.25
Dupiaza Vegetables
Medium with onions & capsicums
Medium
£5.25
Bhuna Chicken
Medium thick sauce
Medium
£5.25
Bhuna Chicken Tikka
Medium thick sauce
Medium
£6.25
Bhuna King Prawns
Medium thick sauce
Medium
£9.25
Bhuna Lamb Tikka
Medium thick sauce
Medium
£7.25
Bhuna Meat
Medium thick sauce
Medium
£6.25
Bhuna Prawn
Medium thick sauce
Medium
£6.25
Bhuna Vegetables
Medium thick sauce
Medium
£5.25
Bombay Chicken
Medium with whole egg
Medium
£5.25
Bombay Chicken Tikka
Medium with whole egg
Medium
£6.25
Bombay King Prawns
Medium with whole egg
Medium
£9.25
Bombay Lamb Tikka
Medium with whole egg
Medium
£7.25
Bombay Meat
Medium with whole egg
Medium
£6.25
Bombay Prawn
Medium with whole egg
Medium
£6.25
Bombay Vegetables
Medium with whole egg
Medium
£5.25
Bengal Chicken
Medium with vegetables
Medium
£5.25
Bengal Chicken Tikka
Medium with vegetables
Medium
£6.25
Bengal King Prawns
Medium with vegetables
Medium
£9.25
Bengal Lamb Tikka
Medium with vegetables
Medium
£7.25
Bengal Meat
Medium with vegetables
Medium
£6.25
Bengal Prawn
Medium with vegetables
Medium
£6.25
Bengal Vegetables
Medium with vegetables
Medium
£5.25
Aloo Chicken
Medium with potatoes
Medium
£5.25
Aloo Chicken Tikka
Medium with potatoes
Medium
£6.25
Aloo King Prawns
Medium with potatoes
Medium
£9.25
Aloo Lamb Tikka
Medium with potatoes
Medium
£7.25
Aloo Meat
Medium with potatoes
Medium
£6.25
Aloo Prawn
Medium with potatoes
Medium
£6.25
Aloo Vegetables
Medium with potatoes
Medium
£5.25
Contact Us
Find Us
19 Charles Street, Newport, NP201JU
We deliver to
NP10, NP18, NP19, NP20